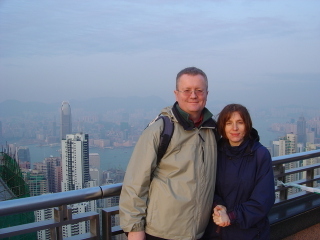 With wife, Ela, freezing at the summit of a Hong-Kong mountain, March 2006.
Hello, and welcome to my webpages.
On these web pages, you can find out who I am, what I'm doing, and how to contact me. If you have a username and password from us, such as from a christmas card, you can go
news.markellison.net
to get our latest news. There's a good chance that it'll include an account of what the local
quendas
have been up to.
My work involves helping people with their computing needs, especially with websites. For one client, I build sizeable online shops. For another, I combine site maintenance and setting up new content-management systems with processing log files and occasional development. For a third, I data-mined information on competitors and potential customers. If you have a computing need: creating, fixing, upgrading or improving, your website, data-mining, or software development, perhaps I can help you.
In part, I work as an IT consultant to provide both money and time for my academic interests. These interests lie within Cognitive Science, and focus on modelling language, marking up texts, learning, and non-dualist philosophy and reasoning. For more details, click on the Research tab above.
When not doing work or research, I surf the web, watch my MythTV box, maintain my MythTV box, potter around the house, dream up schemes for digital control of the house, learn languages, dream up schemes to automate language-learning, tend to the garden, dream up schemes for computer-controlled garden maintenance.